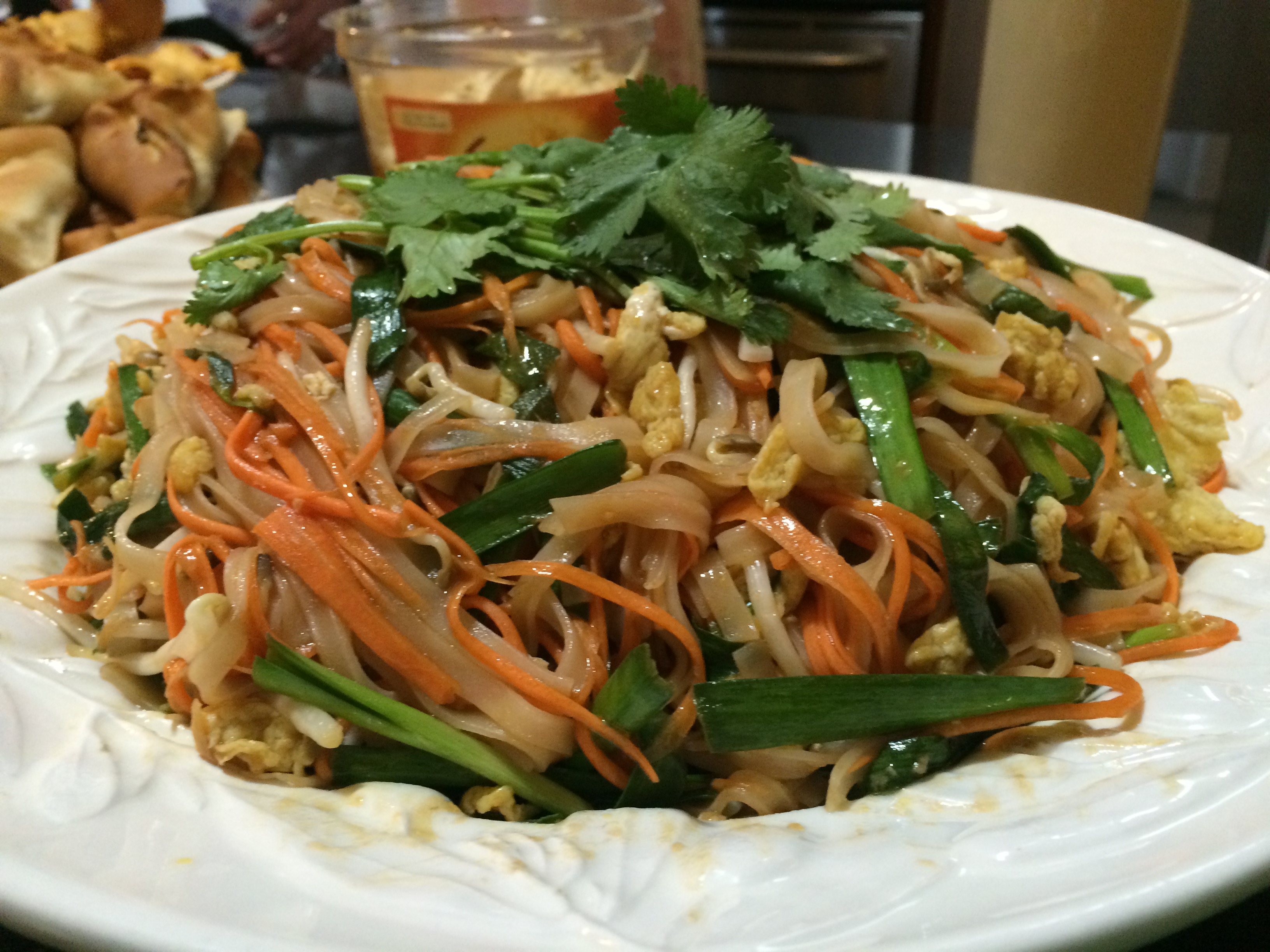 Pad Thai is a very yummy spicy noodle dish. It is sometimes topped with beef, chicken, shrimp or Tofu. It is almost always the top choice on everybody's list when they go for Thai food. You have to taste it to believe it. While there are so many different recipes for Pad Thai that I have tried to make over the years, this one by far is the easiest and tastiest!

Pad Thai
Prep time:
Cook time:
Total time:
Ingredients
SHRIMP PAD THAI (contains peanuts )
Inspired by Jean-Georges
INGREDIENTS:
1 lb. Raw shrimp deveined and shell removed
1 lb. Flat rice noodles (linguini width)
4 T. Peanut oil or, if you're allergic to peanuts, any neutral oil
1 Large red onion chopped
3 Cloves of garlic minced
1 Cup carrots julienned into long thin pieces (optional)
4 oz. Very firm tofu diced into 1-inch cubes
Pad Thai sauce:
1 cup Sweet chili sauce
⅓ cup Tamarind sauce
⅓ cup Fish sauce (Nam Pla)
4 cups Bean sprouts or 2 cups thinly-julienned carrots
6 Scallions or green onions chopped diagonally into 1inch pieces
1 cup Cilantro leaves
½ Cup Crushed, salted peanuts
1-2 Large eggs
Instructions
Fully submerge the rice noodles in lukewarm water for 45 minutes. Soak shrimp in ice-cold salted water (1/4 cup salt for 12 cups of water) for 10 minutes.
Mix the sauce ingredients together and taste. It's essential that you have the right combination of salty, sour and sweet that works for you. If you feel that the sauce needs more salt then add the fish sauce, more sour, add the tamarind sauce or sweet then you can add the sweet chili sauce.
In a large, wide-bottomed deep pot or wok, place 2 T. oil on medium heat, add the onions and garlic and sauté for 2 minutes until the onions are softened.
Add the tofu and stir-fry for another minute.Add the carrots and stir another minute.
Increase heat to medium-high; add the shrimp and stir-fry for 1 minute.
Increase heat to high, add the noodles; using tongs or two wooden spoons, stir the noodles for few seconds and add ⅓ of the sauce and stir-fry ensuring that the noodles are mixed thoroughly with the sauce. Add ⅓ of the sauce and continue mixing the same way. Then add the remaining sauce and keep stir-frying for another minute.
Push the noodles to the side add another T. of oil while pot is still on high heat, add the egg and mix it in with the wooden spoon until it's just set and scrambled. At this point, mix the egg with the rest of the noodles by tossing it in the noodles. That way the eggs are broken into pieces and mixed in with the noodles.
When combined, add the 4 cups of bean sprouts (or 2 cups of julienned carrots), all the green onions and half the amount of peanuts and cilantro and mix another minute. Taste the noodles; if they are hard to the bite, add few tablespoons of water and continue stir-frying and tasting until they are to your liking.
Adjust seasoning by adding more chili sauce if you like your Pad Thai sweeter or more fish sauce if you like it saltier.
Garnish with the rest of the beans sprout, cilantro and peanuts.